Payment
Payment of orders made on this web site are processed securely through PayPal, using a credit card.
1. Click the green button "Proceed to PayPal"
2. A PayPal page will appear. Click "Pay with Credit or Debit Card" button in the lower part of the page.
3. Fill the form with your billing information, and everything is good to go.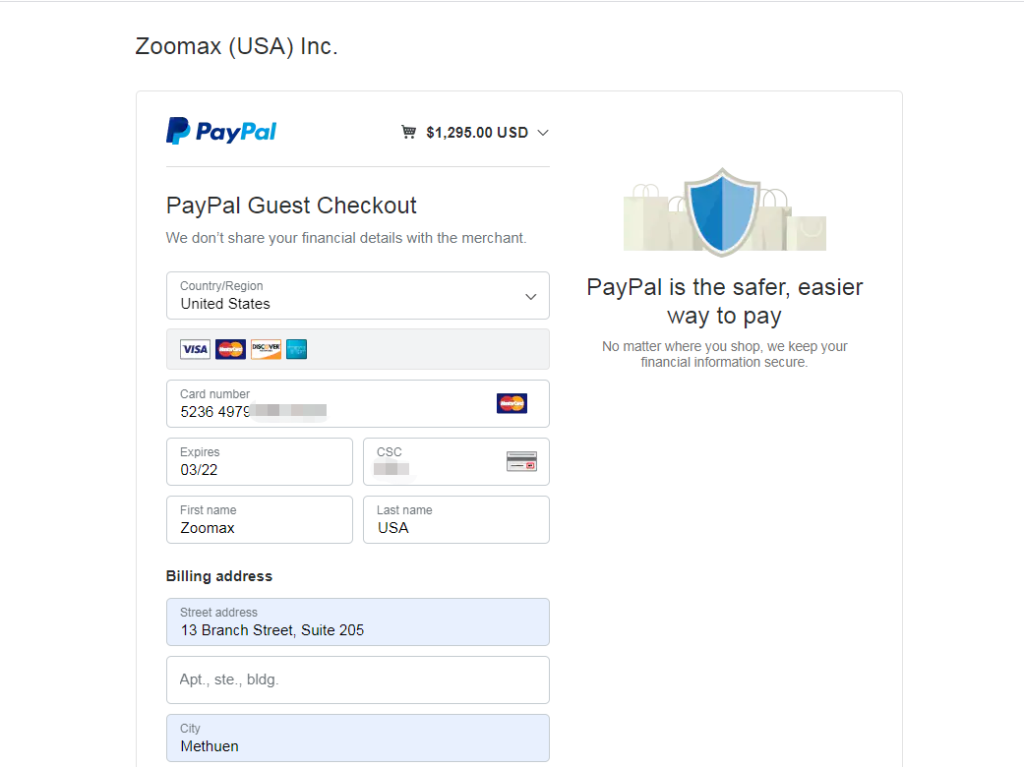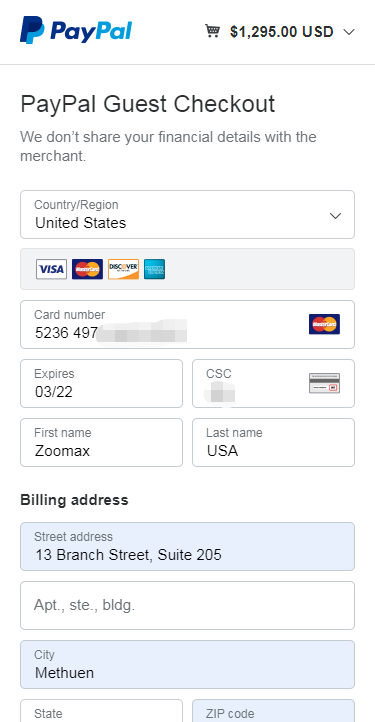 Besides checking out as a guest, you can log into a PayPal account you already own too. Credit card information is not stored by or otherwise provided to Zoomax (USA) Inc. The only information we receive is your billing and shipping address information, and any phone or email address you provide.
If you represent an organization such as a school or state/federal agency and wish to use a purchase order, please send your purchase order to [email protected]. We can also provide an official sales quote if you need one.
While we do accept check payment, please note that the check must be from a U.S. banking institution, and funds must post as cleared in our account before any merchandise will be shipped to you. Thank you for your understanding.
Shipping & Delivery
We accept online orders from customers living in the continental United States, Alaska, Hawaii, and Puerto Rico. We ship to post office boxes, APO, and FPO addresses.
We accept orders from customers in the USA or a US territory and ship via FedEx. A signature may be required upon delivery. 
We also ship to Canada. If you are from Canada, please note that duties and taxes are not included in your order total.
Duties and taxes are calculated based on the items ordered, your shipment destination and the value of your purchase. This charge is determined by your local customs authority and includes:
The Sales Tax applied by your country for purchases from the U.S. and
Duties charged for processing by your country.
Any other international requests will be forwarded to the local dealer or to Zoomax Technology Co., Limited in China for follow-up. International sales inquiries will be forwarded to a local dealer.
Repair Service
To request a repair service, please submit a form here.
If your Zoomax products breaks or fails during the warranty period due to a manufacturing defect, we will repair it free of charge. We operate 2 repair facilities in the USA, located in Georgia and California. To qualify for warranty service your device must have been purchased within 2 years.
Do not ship devices to us or any of our repair centers without first obtaining an RMA number. You are responsible for shipping a device to us for service. The repair and return shipping is covered by Zoomax. ALWAYS include the power adaptor when returning your product.
Products older than 2 years and therefore out of warranty may still be repaired at the owner's expense. We will inspect the device and provide a repair estimate prior to completing any service work.
It takes 3-5 business days to address a repair request and complete the repair after we receive the unit with the correct information including RMA#. For more complicated repairs it may take 3-5 days, up to 10 days total.
The delivery time will be 5-10 days after receipt of the device. Please check the delivery status you will receive in an email with your tracking number and invoice.
We will reach you out with any unexpected situation.
Any feedback regarding our after-sales service, please feel free to leave us a message via the contact form, or send email to [email protected]
Returns
If you purchase a product directly from Zoomax and wish to return a product within 30 days of purchase you may do so by contacting us and obtaining an RMA number. Once a product is received we will inspect for damage, confirm the presence of all accessories, and then process the refund. Note that shipping is never refunded and the cost of shipping will be deducted from any "free shipping" offer.
If you purchased a Zoomax product from anyone else such as a dealer or eye doctor or eye clinic, please contact them to make your return. Do not return any product to Zoomax that was not purchased from us directly.
Products older than 30 days are not eligible for return.
Restocking Fee
If an opened returned product shows signs of damage or abuse affecting secondary sales, 20% of restocking feel will be charged. The cost to repair the product will also be assessed and could be higher than 20% in some cases. Unopened product – i.e. still in factory seal and clearly unused – may be exempt from this restocking fee.
Demonstration
Product demonstration videos can be found on the product pages of this web site and can be viewed any time.
If there is no authorized dealer in your area, or for other information about product demonstrations, please contact us and we will do our best to help you.