Your Ultimated Choice of
Low Vision Aids

We have been focusing on the development and user service of the electronic video magnifier for 15 years. Everyhing, and the only thing we do is to provide the most helpful visual aids to encourage people with low vision to live confidently!
$2695 
Low vision E-glasses enable wearer living with macular degeneration, glaucoma and central vision loss  to   watch TV, enjoy social activities and stay connected.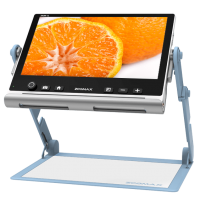 $1395
Portable electronic video magnifier with 12″ large screen and text-to-speech feature which is easy and comfy to use, ideal for reading and writing.
$895
Luna 8 offers 8 hours of battery life, compact design and super clear image, which is perfect for anyone with visually impaired conditions.
Acesight VR Helps? Share Your Story!
We want to hear how electronic glasses Acesight VR changed your life. Free gifts for you!
Dr. Ed Paul, OD, PhD
Talking About Zoomax Acesight E-Glasses!
"All of a sudden, what happens is Jack looks like he's on a 50-inch television screen right in front of me."
"The care and customer service you have provided us is outstanding. When a blind person loses their "eyes" -- in this case, the help that the Snow can give my dear mom with some level of sight -- it is devastating. This brings her hope and some level of renewed independence."